<![if !supportEmptyParas]> <![endif]>
<![if !vml]>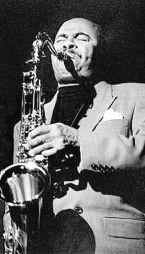 <![endif]>
()
Benny Golson
<![if !vml]>

<![endif]>
Benny Golson now arriving at Folly terminal
<![if !vml]>

<![endif]>
By JOE KLOPUS
<![if !vml]>

<![endif]>
The Kansas City Star
<![if !vml]>

<![endif]>
If any one person in jazz were entitled to rest on his laurels, Benny Golson might be the one.
After all, Golson has written the standards "Killer Joe," "Whisper Not," "Stablemates," "I Remember Clifford" and "Blues March." He has played compelling tenor sax solos alongside such giants as trumpeters Dizzy Gillespie, Lee Morgan and Art Farmer, pianists McCoy Tyner and Bobby Timmons and drummer Art Blakey.
He's a bandleader to reckon with, and he has written reams of other compositions and arrangements that are just waiting to be heard.
His writing skills took him to Hollywood, where he composed music for television shows. He was even invited by Steven Spielberg to portray himself in the recent Tom Hanks movie "The Terminal."
But for this 75-year-old creative giant, there's always more music to be written, and there are always more gigs to be played — including his show Friday night at the Folly Theater.
"Creativity," Golson says, "demands that you move on."
Golson has been in creative motion since he was 9, when he became "a very serious piano student," playing light classical music for Sunday afternoon fashion shows in his native Philadelphia. But his interests switched abruptly to jazz at 14 when he heard Lionel Hampton's big band.
"That's when my life changed," he says. "I was seeing a big band for the first time, seeing the bright lights on those instruments, seeing the guys step out front to take a solo."
And tenor sax man Arnett Cobb's roaring, stomping solo on "Flying Home" made Golson want to become a saxophone player.
After an apprenticeship on the fertile Philadelphia scene, Golson did tours of duty in the 1950s in the bands of arranger Tadd Dameron (a musical hero to him), Hampton and Dizzy Gillespie.
His writing for Gillespie's band got noticed, and soon people such as Miles Davis were recording his songs. His brief but highly visible tenure in Art Blakey's Jazz Messengers created one of Blakey's best-selling and most fondly remembered albums, "Moanin'." Golson was on the path to stardom.
Creativity demands that you move from sideman to leader, and Golson did that in style in 1959 by founding the Jazztet with trumpeter Art Farmer. The band was an artistic success all the time and a commercial success some of the time. But it split after awhile, and in a time when jazz was losing ground to rock, Golson was finding it difficult to get ahead.
"I was sort of disappointed in myself and what I was doing as a saxophone player," he says. "I didn't like what I was doing, and I didn't know what I wanted to do. That's when I kind of bowed out of playing."
But his pen was sharp, so he moved to Los Angeles and made a go of writing commercial music. Golson composed background music for television shows including "M*A*S*H," "Mission: Impossible," "Mannix" and even "The Partridge Family."
But this lucrative career turn had side effects on his jazz playing: "For about seven years I didn't touch the horn."
He says that eventually "the bug bit me again, so I decided to come back."
Getting his horn-playing back together was one of the biggest career challenges he has faced.
"When I came back, it was like trying to get over a stroke. Everything was gone — my concept, my embouchure, my coordination, my fingering. It took me over 10 years to get comfortable again."
But he did get back up to snuff. And since he has been back, he worked for a while with a re-formed Jazztet; led an Art Blakey tribute band; and even presided over a major concert of his jazz and nonjazz music at New York's Lincoln Center. And all the while he has led his own groups — and kept up his pace of writing for them.
There was one more strange career turn.
"I got a call one day from my office," he says. "They said I had a call from Steven Spielberg, who wanted to know if I'd be interested in a speaking role in a picture. I said I didn't know. I was afraid they'd pick somebody else for the role. Then I asked who I'd be portraying. They said, 'Yourself.' "
The film was Spielberg's "The Terminal," in which Golson's presence is a big plot point.
"Spielberg and Tom Hanks, they're avid jazz fans," he says. "… Spielberg even brought his wife to the set just to meet me. I've never had a producer do that. And I've had some letters from him since."
Meanwhile the creative fire still burns. Golson writes more music all the time, and the horn still beckons to be played.
"I don't know anyone who is satisfied with their playing," he says, "because it's the kiss of death when you become satisfied. You become a statistic. Like, 'Man overboard!'
"Sonny Rollins put it in a nice way: 'There's no end to it, this music.' "
Mahogany's time again
Kevin Mahogany, the man whose rock-solid voice is almost too good to be true, returns to his old stomping grounds this week.
The former Kansas City jazz ballad
eer, who has been working on a tribute to Johnny Hartman, is making a home stand at Jardine's. He'll perform two shows a night, at 6 and 9 p.m., Sunday through Dec. 16.
For reservations, call (816) 561-6480.
Noteworthy
• The Blue Room, 1600 E. 18th St., offers singer Pat Wilson (with a stack of new arrangements) at 7 tonight; that's free. Bassist James Ward's hot fusion band appears at 8:30 p.m. Friday, and singer Ida McBeth and her band appear at 8:30 p.m. Saturday; cover is $5 on those nights. Bassist Bill McKemy leads the Monday jam session, at 7 p.m.; that's free.
To reach Joe Klopus with comments or news of jazz events, call (816) 234-4751; send e-mail to jklopus@kcstar.com; or write 1729 Grand Blvd., Kansas City, Mo. 64108.
---
FRIDAY
• Benny Golson performs at 8 p.m. Friday at the Folly Theater, 300 W. 12th St. Tickets cost $15 to $27.50; call (816) 474-4444, or visit www.follytheater.com. Golson will participate in a "JazzTalk" question-and-answer session for ticket holders at 7 p.m. Look for our review Monday in FYI.
• Golson will also attend a free screening of the jazz documentary "A Great Day in Harlem," in which he is featured, at 7 tonight at Screenland, 1656 Washington Ave. Call (816) 474-4444 for a seat.