<![if !vml]>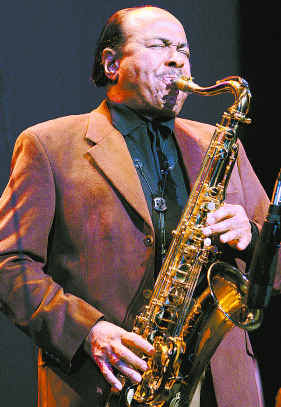 <![endif]>
SUSAN PFANNMULLER/Special to The Star
Jazz musician Benny Golson performed Friday night at the Folly Theatre.
<![if !vml]>

<![endif]>
Golson delivers classics
<![if !vml]>

<![endif]>
By TOM FREDRICK Special to The Star
<![if !vml]>

<![endif]>
Benny Golson is the Noah Webster of jazz. His vocabulary is unsurpassed and few if any have contributed more to the lexicon. Literally and musically, he commands vast knowledge — whether as saxophonist, composer, arranger, or raconteur.
Friday night at the Folly Theater, his quartet gave a textbook demonstration of style and sophistication. All of the dozen songs performed are true classics. Exactly half were original Golson compositions, together having been recorded hundreds of times over the years by a Who's Who of Jazz.
The opening statement was "Horizon Ahead," a piece Golson wrote for the 1998 album "Remembering Clifford." Pianist Doug Carn quickly established himself with a lovely, understated solo. His feathery touch on the keyboards, belying a barrel-like physical presence, also highlighted "Along Came Betty" to follow.
Golson was born in Philadelphia. His milieu included close friend and fellow saxophone player John Coltrane. A hard driving "Mr. P.C.," from Coltrane's 1959 Giant Steps album, was offered next. With ascending melody and a series of chromatic runs, the version featured both sheen and swing.
A kinetic drum solo by Mark McKnight seemed to leave smoke rising from cymbals and skins. Beneath his bobble-head energy and staccato stick-work, however, lies a Ph.D. candidate and musical scholar.
Then came "I Remember Clifford," which Golson penned while with Dizzy Gillespie after learning of the June 1956 death of trumpeter Clifford Brown.
Golson dedicated "Tiny Capers," the final song before intermission, to a small child in a balcony seat to his right above the Folly stage. Behind the lyrical melody, the three rhythm players, including bassist Seth Lee, finally clicked on all cylinders in powerful fashion. Lee, a Kansas Citian, brought a smile to Golson's face with his driving, playful turns.
Lee and McKnight generally played like veterans. Overall, though, it was Carn whose subtle shifts and distinctive excellence most consistently pleased the audience.
The second set opened with "Whisper Not" and "Beautiful Love." Savannah-based blues singer Jacey Falk then broke a somewhat scholarly ambiance with a guest appearance. His hollerin' style enlivened "Black Night" and "Love Me." Two all-instrumental pieces concluded the show — the venerable "Take the A Train" from Billy Strayhorn and Duke Ellington, and "Stablemates," a number popularized by Miles Davis in 1955 that put Golson on the map as a composer. The quartet played Golson's "Killer Joe" for an encore and it was, well, killer.
Despite occasional moments when play seemed to lapse into a respectful state of library tranquility, the overall performance and effect was far from academic. Refined sounds were the rule, but surprise was never sacrificed.
Golson articulately wove colorful stories throughout the performance, drawing from autobiographical accounts to present a given song or lend thematic perspective. He speaks with professorial skill and quiet confidence, whether verbally or with his tenor sax. The musical voice is elegant, rich, and warm.
Golson stands about 5' 7." Yet his true stature is epic in nature. The Golson legacy — an ongoing creative work in progress — is writ large over jazz history.
---
Benny Golson
REVIEW
• Reviewed: Friday, December 10, at the Folly Theater
• Attendance: 700 (approx.)