Recording Academy News - February 9, 2005
2nd Annual Recording Academy Salute To Jazz Honors Giants Of The Genre
Benny Golson, Jon Hendricks and Horace Silver paid tribute at first "Salute To" event of this year's series
GRAMMY.com
Bruce Britt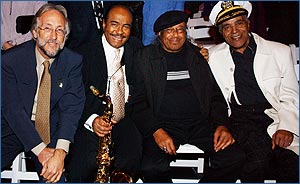 Neil Portnow, Benny Golson, Horace Silver
& Jon Hendricks
Music legends Jon Hendricks and Benny Golson stepped like soldiers during a martial performance of Golson's jazz classic "Blues March," pianist and hard-bop pioneer Horace Silver beamed proudly as an exceptional high school ensemble interpreted some of his best-loved classics, and music lovers offered a reverent moment of silence for two recently departed friends.
These were just a few of the memorable moments during Tuesday night's 2nd Annual GRAMMY Salute To Jazz at the Henry Fonda Music Box Theater in Hollywood, where The Recording Academy presented President's Merit Awards to jazz greats Benny Golson, Jon Hendricks and Horace Silver for their tremendous contributions to the genre and the global music community.
Underscoring the value of jazz education, Tuesday's gala featured spirited performances by the Gibson/Baldwin GRAMMY Jazz Ensembles, a brass orchestra showcasing the talents of North America's finest high school musicians. This year's group of vocalists and instrumentalists were selected from more than 400 applicants across the United States and Canada.
The ceremony was attended by a number of celebrity guests and GRAMMY winners, nominees and honorees, including vocalists Al Jarreau and Andy Bey, saxophonist Dave Koz, arranger Gerald Wilson, percussionist Raphael Cruz, and industry legend and EMI Jazz & Classics President/CEO Bruce Lundvall.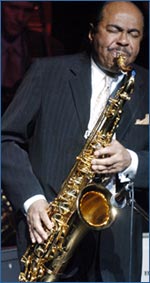 Benny Golson
The evening commenced on a somber note, with vocalist and STJ host Kurt Elling informing the audience that jazz organist Jimmy Smith had died. "Let's just take a moment to hang with this [news]," Elling said, signaling a moment of silence for the influential keyboardist.
Remembering another recently departed friend, Recording Academy President Neil Portnow acknowledged "Tonight Show" host Johnny Carson for his support of jazz (Carson's band featured outstanding improvisers like trumpeters Clark Terry [an honoree at this event last year] and Doc Severinsen and drummer Ed Shaughnessy, among others). "He really did the right thing, and we'll miss him," Portnow said of Carson.
With dearly departed friends remembered, the festivities commenced in earnest. From his front row seat in the ornate Music Box Theater, Silver watched approvingly as the GJE delivered incandescent performances of his timeless standards "Ecaroh" and "Song For My Father." A former sideman with Stan Getz, Coleman Hawkins and Lester Young, Silver was thrust to the jazz forefront in the mid-'50s when he formed the pioneering hard-bop ensemble the Jazz Messengers, featuring drummer Art Blakey. Silver's solo career has been similarly influential, resulting in standards like "Cape Verdean Blues" and "The Jody Grind."
"I've tried to do my best to bring you the music that God has given me," Silver said softly, accepting his President's Merit Award. "Thankfully, you've accepted it…and hopefully it will continue to live on, bless, and uplift people."
The evening's second honoree was saxophonist and arranger Golson. The only living jazz artist to have written as many as eight standards for jazz repertoire, Golson has composed more than 300 songs for acts as diverse as Miles Davis, Peggy Lee, Dusty Springfield and even the Monkees. Tuesday, the versatile and prolific writer performed a pair of his classics, including "Along Came Betty" and "Whisper Not." Golson inspired cheers with his sable saxophone tone and flowing, legato improvisations.
"As a kid back in Philadelphia…I dreamt about moments like this," Golson told the crowd. "But I never knew I would be in it. The future will always have an indistinguishable face, but we as artists try so hard to give it our own making. And when this happens — zingo!"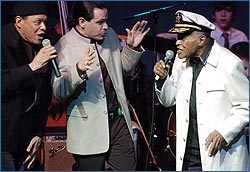 Al Jarreau, Kurt Elling & Jon Hendricks
Dubbed "The James Joyce of Jive" by Time magazine, Jon Hendricks is considered the architect of "vocalese" — the art of creating lyrics for instrumental jazz tunes, then rearranging those songs for jazz vocal choir. In the late '50s, Hendricks joined with fellow singers Dave Lambert and Annie Ross to form the trailblazing vocal trio, Hendricks, Lambert & Ross.
Accepting his honor, Hendricks recalled growing up in Depression-era Toledo, Ohio, taking singing requests near a jukebox at a local store. As the requests became more diverse, Hendricks learned to emulate the sound of horns and other instruments, transforming himself into a human jazz orchestra.
"That was the genesis of vocalese," Hendricks said, "and for your acceptance of it — and maybe even your love of it — I thank you from the bottom of my heart."
The night concluded with Hendricks, Golson, Jarreau and Elling delivering a freewheeling performance of the Lambert, Hendricks & Ross classic, "Gimme That Wine."
Instrumental accompaniment for all the evening's performances was provided by the GJE, conducted by Ron McCurdy (professor of music at USC's Thornton School of Music) and Justin DiCioccio ( dean of studies, Manhattan School of Music). The GJE performed last week on "Late Night With David Letterman" and the band has also recorded a special version of the "Entertainment Tonight" theme that will be played over the show's opening credits one night this week .
"These are the kinds of hands-on experiences the GRAMMY Foundation program provides to these bright young players," Portnow remarked.
The 2nd Annual Salute To Jazz is part of The Recording Academy ' s growing Salute To… series that will also honor classical and gospel music and an icon of the music industry this year.